---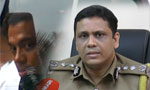 Yoshitha Rajapakse and five others who were arrested on Saturday have been given additional security but no additional privileges, Prisons Spokesman Thushara Upuldeniya said.

Making a statement to the media, Prison Commissioner Upuldeniya said the suspects were in normal prison cells, except for Kavishan Dissanayake who was admitted to the Prisons Hospital for treatment.

The Department has however taken measures to reduce unnecessary visitors to the premises. "A prisoner is allowed one visit each day and a maximum of three visitors. If there are more visitors they need to consult the Prison Superintendent," the Spokesperson said.

Visitors, including members of parliament, can visit prisoners from 8 a.m to 5 p.m every day.
Upuldeniya also said the suspects could request for food from their homes for all three meals if they wished, but none of the suspects had made such a request. "We have provided them all with food and they have not made any requests in this regard," he said.
Video by Sanjeewa and Buddhi