---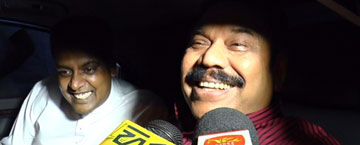 Former President Mahinda Rajapaksa today said he had to ask the government whether it was now happy after arresting his son Parliamentarian Namal Rajapaksa,
Mr. Rajapaksa who was arrested by the FCID today over an inquiry of allegedly misappropriating Rs. 70 million worth of funds belonging to 'Krish Company', was later remanded by Fort Magistrate Lanka Jayaratne till July 18.
After visiting Namal Rajapaksa at the Welikada prison this evening, the former president and Kurunegala District Parliamentarian said, "What I have to ask from the government is 'Obata Satutuida Dan' (Are You happy now?)", he said.
Talking to the media he alleged that it was very much clear that this was a political revenge and nothing else.
"Mohamed Muzamil is still in prison and there will be more to be put into prison in the future. It is not a problem for us now. We are considering this as a normal incident," he said.
Now we see the, justice is now operational. It works on only to a selected group and that is the fault of it, he said. (Chaturanga Pradeep)
Video by Buddhi