---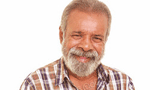 Veteran character actor Wimal Kumara de Costa who proved his exceptional skills on stage, films and television passed away this evening at the age of 69.
Sources said that he developed breathing difficulties while he was attending in a programme in Boralesgamuwa.
He was pronounced dead on admission to the Colombo South Teaching Hospital, Kalubowila.
Costa who was born on July 4, 1948, studied at Kelaniya Gurukula Vidyalaya where he had acted in school plays.
He entered the stage scene in the seventies as a pioneer mime artiste and soon became known as a talented actor, especially excelling in comedy.
He initially he acted in stage plays like Dunna Dunu Gamuwe, Hitha Honda Ammandi, Nettukkarayo and others before making his film debut in Sihina Lowak.
Since then he has acted in more than 100 films including Pujithayo, Wesgaththo, Hathdinnath Tharu, Dahakin Ekek, Ahas Gawwa, Bambaru Ewith, Eya Dan Loku Lamayek, Sihasuna, Sagarika, Nilla Soya, Diyamanthi, Maruwa Samaga Wase, Asha Desin, Ektam Ge, Mayurige Kathawa, Sathweni Dawasa, Sakwithi Suwaya, Major Sir, Peralikarayo, Silva, Pooja, Sarungale and others.
He acted in some noteworthy tele dramas too.