---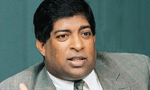 The Government will receive Rs.25 million as import duty for each of the 58 vehicles which are to be given to 58 MPs, Finance Minister Ravi Karunanayake told Parliament today.
He said this in response to a question asked by Chief Opposition Whip Anura Kumara Dissanayake on Thursday and added that the government would actually save money through this transaction.
"The vehicles will be imported by a private company on an operational lease and therefore it would be possible to save a considerable amount of funds," the minister said adding that the cost of repairs would have to be borne by the importer and as such there would be a reduction on the expenditure involved.
The minister said there were several instances where bills were being produced by those using state vehicles to get funds reimbursed but an operational lease would prevent such eventually in the future.
He said the MPs were being paid Rs.200,000 as transport allowance because the tender process for ordering the new vehicles took time.
"In future all vehicles for State use will be acquired on an operational lease except those imported for use by the President and the Prime Minister," he said.
He said government MPs needed vehicles because they had to carry out various kinds of work for the people. (Yohan Perera)