---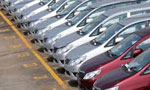 Prices of motor vehicles with a cylinder capacity between 1000 cc and 1500 cc and three-wheelers have risen as a result of the increase in the Unit Rate Tax from midnight yesterday, the Vehicle Importers Association of Sri Lanka (VIASL) said today.
However, the prices of some of the smaller vehicles with an engine capacity of less than 1500 CC such as Toyota Vitz, Passo, Honda Shuttle (Hybrid), Freed, Vezel, Insight, Suzuki Hustler and Wagon R (hybrid) decreased.
The VIASL President Indika Sampath Merenchige said the Unit Rate Tax has increased from Rs.2.6 million to Rs.3 million resulting in the price of a Toyota Prius increasing from Rs.3.3 million to Rs.7.7 million and would likely discourage people from importing Japanese vehicles in the future.
"This is the highest tax increase on vehicles in recent history. The excise duty which was maintained at a lower level during the past three weeks has also been increased," Mr. Merenchige said.
The prices of electric vehicles will be increased according to its battery capacity while the Customs duty on electric vehicles with battery capacity of 100KW has been reduced.
As such the Customs duty of Rs.2.9 million on a Nissan Leaf electric vehicle would be reduced to Rs.1.7 million.
Tax on vehicles such as lorries, buses and vans have not been increased.
"If this practice continues, only vehicles below 1000cc engine capacity will be imported to the country in the future. The imports of motor vehicles with cylinder capacity between 1000cc and 1500cc would be reduced by 85 per cent," Mr. Merenchige said.
Meanwhile, Chairman of Lanka Vehicle Importers' Association Mahinda Sarathchandra said prices of vehicles with cylinder capacity exceeding 1599cc (1600cc) would be increased because of the newly introduced Transected Value or Unit Rate Tax according to the Extraordinary Gazette Notification issued yesterday.
He said the tax on a Nissan X-trail which is currently taxed at Rs.4 million would increase to Rs. 8 million, a two-fold increase in the price.
A Mazda Axela now costing Rs.3.8million would rise to Rs.8 million. Petrol Prado 150 was increased by Rs.5 million, a Land Cruiser 202 was increased by Rs.10 million.
"This price increase is an unusual increase by the government and it is unfair to have such vehicle price increases again in a situation where vehicle prices increased repeatedly in a short time, Mr. Sarathchandra said. (Chaturanga Pradeep)
Video by Richan