---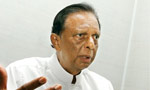 Tourism Minister John Amaratunga today said the Government was compelled to increase vehicle prices because it would reduce the number of vehicles on the roads and also avoid unnecessary people purchasing vehicles.
Speaking to reporters after an event in Galewela, Wahakotte, the Minster said three-wheeler prices were increased in the wake of the fast-increasing number of such vehicles and on the request by some three-wheeler associations.
"While it appears that there is an increase in the price of luxury vehicles, I think it is alright if the affluent people can afford it. Let them buy if they can afford. There is no notable increase in the prices of ordinary cars. I don't see anything wrong in increasing vehicle prices. There are more cars now in the country and it is difficult to travel in vehicles in Colombo or Kurunegala because of the traffic. Cars are being purchased by everyone today irrespective of their job positions or social needs. The number of three-wheelers have also increased manifold creating a loss of income to the users. Many three wheeler operators complain that they have no hires. We cannot restrict imports and therefore we had to tactfully increase the prices so that there would be a lesser demand," he said.
"Cars should be used by high income groups but now owning a car has become a fashion or a trend with the owners mixing up their priorities, " he said adding that he was unable to make a ruling on who should or should not purchase cars and that until the gazette was issued he was not in a position to say anything about the car prices. (K. K. Ariyadasa)