---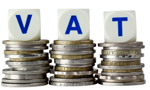 The Inland Revenue Department (IRD) today said that the VAT rate would remain at 11 per cent until further notice.
Issuing a notice, Commissioner General Kalyani Dahanayake said the VAT rate, scope of the liability and provided exemption should be continued in accordance with the prevailing Act no. 14 of 2002 and amendments hereto until further notice.
"Therefore, the applicable VAT rate is 11%," the statement said.