---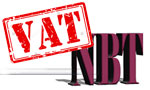 The Value Added Tax (VAT) and the Nation Building Tax (NBT) will be implemented from November 1, the Finance Ministry announced a short while ago.
The ministry said in a statement that VAT would be increased from 11 per cent to 15 per cent.
It said the annual VAT threshold on the wholesale and retail market would be Rs.50 million while the general VAT threshold would be Rs.12 million.
"VAT will be applicable on cigarettes, liquor, milk powder, electrical appliances and telecommunication services while VAT will also be applicable on healthcare services such as channelling and hospital room charges," the ministry said.
The NBT rate would remain at 2 per cent with the NBT on turn over reduced to Rs.3 million from Rs.3.7 million. NBT will also be applicable on telecommunication services and electricity.