---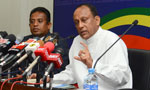 The Government will not present the proposed amendments to the VAT for the second reading in Parliament next Wednesday (20), State Finance Minister Lakshmana Yapa Abeywardana said today.
"A four member ministerial committee will submit a new set of proposals to President Maithripala Sirisena on Sunday (17) on how further relief can be provided on essential commodities," he said.
Addressing the weekly SLFP media briefing at the party office Minister Abeywardana said VAT increase was not effective on any single commodity or service now and if any trader of service provider charged the increased 4 percent it was illegal and punishable under the law.
Responding to a journalist on charging of VAT by certain retail outlets, private hospitals and telecommunication companies, Minister Abeywardana said it was a violation of the law and the Government would take steps to rectify it, either by taking legal action against errant traders, telecommunication companies and private hospitals or make them repay the illegal tax collection.

Pic by Gayan Amarasekara