---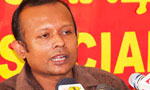 The increase in the Value Added Tax (VAT) to 15 percent with the effect from May 02 could be considered as an unpleasant New Year present given by the Government to the people, the Frontline Socialist Party (FSP) charged today.
Addressing a media briefing in Colombo, FSP Propaganda Secretary Pubudu Jayagoda said the common people had fallen in to a great difficulty with the VAT increment.
He said the Government was to implement these increments within the Capitalist Class even though they had targeted common working people and small, medium scale businessman.
"The maximum VAT increment level was up to 11 percent, but the Government has proposed to increase it up to 15 percent. As a result of this the prices of numerous essential items will go up," he added.
He also said that President Maithripala Sirisena had made a contradictory statement by saying that he would not let people suffer from such a VAT increment.
"The President is unaware of everything unless the media announced it," he added. (Kalathma Jayawardhane)