---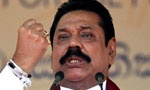 Former President Mahinda Rajapaksa today said the Value Added Tax (Amendment) Bill should not be allowed to be passed into law.
It is taken up for vote on August 11 in Parliament.
The Kurunegala district Parliamentarian in a statement said, "This draft legislation seeks to revive and give legal effect to all the objectionable features of the VAT reforms that were suspended by the Supreme Court last month. The new VAT Bill seeks to increase the VAT rate from 11% to 15%, to bring the small and medium retail and wholesale trade and the private health care services within the ambit of VAT and to mandatorily require all establishments with a turnover exceeding Rs. 33,000 a day to register for VAT. A tax on health care is in effect a tax on ill health. The more serious the illness, the more revenue the government will make from that patient. Everyone knows that those who make use of private health services are not only the rich.
Traders and small businessmen countrywide, opposed the 15% VAT imposed on the wholesale and retail trade because it will cause an increase in the prices of goods when it is passed onto the consumer and lead to reduced sales. Previously the VAT on the retail and wholesale trade was limited to large establishments with a turnover of more than Rs. one million a day. But when the threshold is brought down to Rs. 33,000 a day, that brings even small establishments within the ambit of VAT. When retail sales drop as a result of increased prices, that leads to a chain reaction whereby the manufacturers who supply the goods don't get enough orders to be able to break even,".