---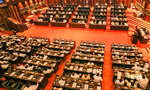 The enactment of the VAT Bill in Parliament hangs in the balance, as the government has decided to alter the original draft.
Earlier, the government had planned to have the debate on the Value Added Tax (VAT) Amendment Bill on Wednesday and Thursday, and enact it.
Yet Finance Minister Ravi Karunanayake told Daily Mirror yesterday that there would be a meeting with Prime Minister Ranil Wickremesinghe this evening regarding improvements to the bill.
"Then we will decide whether to hold the debate or not," he said.
In the meantime, the Sri Lanka Freedom Party (SLFP) will also move certain amendments to the bill. The party also has a committee appointed to look into the matter.
The bill seeks to increase VAT from 11 percent to 15 percent. It also seeks to impose VAT on the private health services.(Kelum Bandara)