---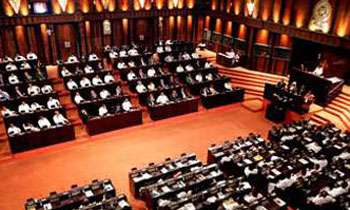 Parliament erupted in heated arguments today over the alleged plot revealed by anti-corruption movement leader Namal Kumara to kill President Maithripala Sirisena and former Defense Secretary Gotabhaya Rajapaksa.
Joint Opposition leader Dinesh Gunawardane asked in parliament about the progress of the investigation carried out into the incident. MP Gunawardane said if the President was assassinated, the Prime Minister would function as the acting President until a new President was elected.
"It was a serious matter. This conspiracy should be thoroughly investigated and all those involved should be brought to book," he said.
Law and Order Minister Ranjith Maddumabandara said CID had launched an investigation into the incident and added that Namal Kumara had been questioned by the CID for 10 hours.
"His mobile phone which was said to have contained the alleged audio and video recordings had been taken into the custody of the CID. The unedited video and audio recordings had been requested for, from the media institutions," he said.
The Minister said TID's DIG Nalaka De Silva had been transferred to the IT Department of the Police on a request made by the CID.
JO MP Mahindananda Aluthgamage, who joined the cross talk said, the security of Namal Kumara has been removed and that it was reported there was a plot to send him overseas and requested the Law and Order Minister to provide him with police security.
JO MP Shehan Semasinghe said the transferring of DIG Nalaka Silva to the IT department was a threat to the investigations.
JO MP Sisira Jayakody alleged that Prime Minister Ranil Wickremesinghe was silent over the matter for which the Premier responded saying that he and the President had ordered for an investigation into the incident. (Ajith Siriwardana)