---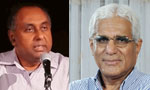 The National Movement for Social Justice (NMSJ) today welcomed the appointment of Dr. Indrajit Coomaraswamy as Central Bank's new Governor and requested him to uphold the institution's transparency which was lacking during the former governor's tenure.
NMSJ Convener Professor Sarath Wijesuriya said Dr. Coomaraswamy was a professional and it was a surprise to note the delay in his appointment.
"We wonder why it took so long to appoint the new governor when we have credible intellectuals like him in our country. We wish him well and hope he can provide the proper management that the CB requires. He will have to face many challenges ahead due to the financial crisis in the country," he said.
Professor Wijesuriya said Dr. Coomaraswamy should learn lessons from the Bond sale scam and take measures to prevent the repeat of such incidents and also should resist political influences. (Lahiru Pothmulla)