---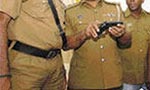 The side arm of a police constable is reported to have misfired killing another police constable attached to the Kantale Police station.
Police said the incident occurred when the officers on duty were checking out their weapons.
The 49-year-old injured constable succumbed to his injuries while undergoing treatment at the Kantale Hospital.