---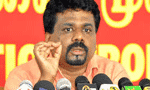 Members of the Government and the joint opposition had prevented a proper debate on the Office of Missing Persons Bill (OMP), the Janatha Vimukthi Peramuna (JVP) said yesterday.
JVP Leader Anura Kumara Dissanayake told Parliament that the government members exhibited a stubborn attitude in getting the legislation passed and this had prevented the JVP from getting certain things clarified and introduce amendments.
"We wanted to seek clarifications on certain clauses of the Bill and state our objections to some other clauses but the drama which took place inside the well of the House prevented all this," he said adding that the protest by the joint opposition was a result of a deal entered into with the government.
"The joint opposition stormed the well of the House to enable the government to pass the Bill without any difficulty," he charged.
"We have information of other government-joint opposition deals under which certain people are allowed to escape corruption charges," Mr. Dissanayake said. (Yohan Perera)