---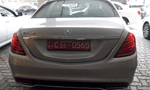 Social media are busy these days inquiring who the minister is who has allegedly imported a Mercedes Benz S300 costing Rs.40.1 million -- which is now parked at a ministerial car park in Battaramulla.
The social media have also posted several photographs of the motor car.
When this matter was brought up at a meeting held to reveal Cabinet decisions, Minister Rajitha Senaratne the co-spokesperson had said that he was unaware of it.
Websites also said that, at a time when people are heavily taxed, the importation of expensive luxury cars for the use of ministers was vehemently opposed by the people.
The S300 was said to be a hybrid vehicle replete with modern features and options.