---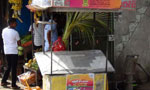 Lottery ticket sales agents in many parts of the country boycotted sales yesterday protesting against the price increase of tickets to Rs. 30.
They demanded prize amounts and their commissions be increased in line with the price increase. They claim that they should be paid Rs. 5.25 per ticket instead of Rs. 4 proposed by the National Lotteries Board (NLB).
They have also organised a huge demonstration in front of the Colombo Fort Railway station to be held tomorrow.
The lottery dealers in Kurunegala demonstrated on the streets of the town on Saturday carrying a coffin, a wreath and a poster which read "death of the lottery"
Earlier on December 29 the All Island Lottery Dealers Society (AILDS) had announced that they would stop selling lottery tickets from January 1 if the government does not withdraw its proposal to increase the price of a ticket to Rs.30.
AILDS Chairperson Krishantha Marambage said President Maithripala Sirisena should have intervened to resolve this matter because the increase in the price of a ticket would create a huge loss in the lottery ticket industry.
"It is not still clear who had decided to increase the price. We don't know whether it is a decision of the Finance Ministry or the two lotteries boards," he had said.
The lottery sellers argue that even at the rate of Rs 20, they found it difficult to sell the tickets, and were paying Rs 2.50 per ticket to street sellers.
Hence, they contended that they ended up with only Rs. 1 as sales commission. With that commission, they said that they had to pay their employees and cover other overheads.
However, NLB countered their argument saying that it gave many benefits to the lottery sellers, including life insurance cover, promotional work and materials.
The NLB also claimed that the board spent 50% of the total revenue as prizes, while 16% went to the consolidated fund. Another 15% was paid as Value Added Tax (VAT).(Kanchana Kumara Ariyadasa, Ranjith Rajapaksa and Pushpakumara Jayaratne, J.A.L.Jayasinghe)