---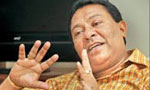 Social Empowerment and Welfare Minister S.B. Dissanayaka yesterday cast doubts on charging former Minister Basil Rajapaksa with the misappropriation of Divineguma funds to buy GI pipes.
He told the media that it might not have been a violation of law or a financial fraud but an inappropriate act that took place during an election campaign.
The FCID had charged Mr. Rajapaksa of misappropriating Rs.35 million belonging to the Divineguma funds to purchase and distribute GI pipes to 158 Pradeshiya Sabhas to erect banners and flags in support of former president Mahinda Rajapaksa's re-election bid.
The minister said his perusal of the ministry files had found that the bill for GI pipes had been settled by the Economic Development Ministry and the purchase had been done adhering to proper procedure like calling for open tenders.
"The pipes have been distributed among Pradeshiya Sabhas and I don't see any corruption involved. Besides, those pipes are of use to Pradeshiya Sabhas for various needs," he added.
When asked whether it was correct to supply GI pipes by the government to local government bodies to be used for election propaganda the minister said he did not see anything wrong because LG bodies which received GI pipes were under the SLFP. (Sandun A Jayasekera)
Video by Chamilka