---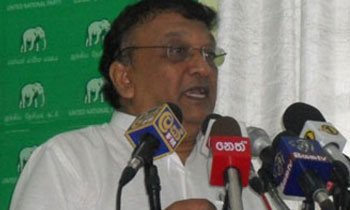 While stating that no decision had been made in the constitutional process regarding the unitary character or devolution of power, Leader of the House and the member of the Constitution Steering Committee Lakshman Kiriella said today the final decision on these matters will be made by Parliament.
Minister Kiriella told a media briefing that the steering committee had not come up with any proposal yet. "The steering committee of the constitutional assembly has not prepared a draft constitution yet. What we have before us is the reports of seven sub committees," the Minister said.
"The subcommittee reports will be openly debated in Parliament and thereby reject some and accept others and the final draft will be prepared by the House," he added.
Accordingly, the Minister said no decision has been made on the unitary status or devolution of power.
Also he said some have proposed that the power of provincial governors has to be increased while others have proposed that it should be reduced. "However all of these decisions will be made by Parliament," he said.
However, he said what the present government intends doing is to fulfil the pledge given by Former President Mahinda Rajapaksa who once said he will accept any solution to the national issue proposal submitted by a parliamentary select committee. The Minister recalled that the former President had pledged for a solution which goes beyond the 13th Amendment to the Constitution.
"What we are trying to do is to fulfil what the former President had once proposed and he himself and his supporters are opposing the same today," Mr Kiriella said.(Yohan Perera)