---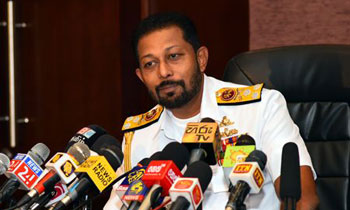 Navy Commander Travis Sinniah said today wearing a uniform does not give anyone sanction to rob, murder or torture another.
Addressing a recent press briefing at the Navy Headquarters, the Navy Commander said if anyone were proven guilty of committing a crime or punishable offense, then he or she should be punished whatsoever.
"In Sri Lanka, everyone is innocent until they are proven guilty. In the navy, if anyone were indicted with criminal offences and proven guilty either by the Navy Act or penal code, then he or she should be punished accordingly," he said.
Speaking of future challenges to the navy, Vice Admiral Sinniah said their future role was to protect commercial trade between the Gulf of Aden to the Strait of Malacca in case of a conflict.
Responding to a question raised on navy's capacity to track submarines, the Navy Commander said they were equipped with advanced systems that could detect submarines in Lankan waters.
"So far, we do not have any threat from neighbouring states. Submarines outside our territory are not a threat. However, we would like to enhance our capabilities to be able to detect submarines approaching our waters," he said. (Darshana Sanjeewa)
Video by Danushka