---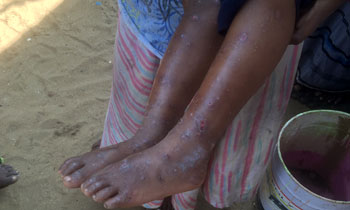 Residents of Ratmalana are worried about an unidentified species of fly spreading fast in home gardens, in the beach and even in houses.
Chief Medical Officer of Health, Dehiwala Mount Lavinia Municipal Council Dr. Indika Ellawala said the swarms of flies posed a threat to public health.
PHIs pointed out that the flies were found even under the grass in the beach and stung individuals walking along the beach. They said the unidentified creature was found on the walls, windows and furniture in houses. Area residents said several individuals including children stung by the fly had received treatment at the Kalubowila hospital.
Dr. Ellawala said the PHIs and the Family Health Officers had launched a crash programme to bring the spread of the fly under control and to create public awareness in this regard.(H.M. Dharmapala and Kusal Chamath)