---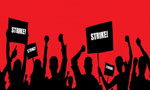 The strike action launched by the non-academic staff of all universities was called off today following an agreement reached with the government.
The Co-President of the Collective Committee of University Trade Union, Dias Wijaya Kumara told a media briefing held at the Highways and Higher Education Ministry in Battaramulla that they would report to work from today itself.
A discussion was held with the trade union leaders of non-academic staff by the Minister of Highways and Higher Education Lakshman Kiriella and State Minister of Highways and Higher Education Mohan Lal Grero with regard to the issue.
The strike action which commenced on July 27, calling for seven demands to be met, hampered activities at the universities across the country in the past 12 days.
However, the Co-President of the Union Dias Wijaya Kumara said they would not take the responsibility for the inconvenience and disruption caused to the studies of the university students due to the strike.
According to the agreement, the Highways and Higher Education Ministry had assured the trade unions that solutions would be given to their demands from the next budget.
The ministry has obtained the approval from the Finance Ministry to increase the allocations for the monthly arrears of the non-academic staff of universities by Rs.100 million.
A pension scheme for the non-academic staff was also promised to be formulated soon by the University Grants Commission.
The UGC would also take immediate actions to introduce a medical insurance scheme for those who are employed in the entire university system and reinstate the language proficiency allowance, as agreed in the agreement.
Speaking at the media briefing, Minister Kiriella said no punishments or disciplinary actions would be taken against those who were engaged in the strike. (Piyumi Fonseka)