---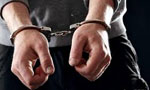 A prominent underworld figure, Stanly Kennedy, known as 'Kennedy', who has been accused of several recent murders in the Southern Province was arrested by the Special Task Force, on Sunday, in Galle, police sources said.
When arrested he had had a 9mm pistol in his possession. He had been handed over to the TID for further action.
Initial investigations have revealed that the 29-year-old suspect had undergone military training under the LTTE and been in the Charles Anthony brigade of the LTTE for five years when the LTTE was active.
After surrendering to the government security forces, the suspect had been rehabilitated and released. He had then joined a prominent underworld group in south led by Kosgoda Suji.
Among the crimes he had allegedly committed are: a double murder near the Balapitiya Magistrate's court, the killing of a three-wheeler driver at Uragasmanhandiya on April 11, 2016 and the killing of 'Kudu Selvi' in Jampettah Street, Colombo in 2015. (Srinath Prasanna Jayasuriya and Bimal Shyaman)