---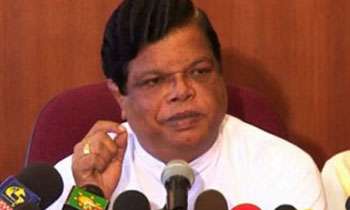 The Central Bank has released US$157.7 million to the market within four days to stabilise the rupee which stands at Rs.170 against the US dollar, joint opposition (JO) MP Bandula Gunawardana today said.
When the IMF is releasing US$169 million to Sri Lanka as loans, he said the evaporation of US$157.5 million to stabilise the rupee would only result in a further increase in the cost of living.
"This move may lead to a price increase of essential items and services such as fuel and bus fares. The rapid depreciation of the rupee is the result of the fiscal mismanagement by the government and there is no point in blaming the Rajapaksa government," he told a news briefing.
Meanwhile, he said the President had invited him to attend a special discussion on the current state of economic affairs but said he was unable to take part because he had not received the consent of JO party leaders.
He said both the economic affairs meeting and the JO party leaders meeting were scheduled at the same time on Tuesday night.
"I cannot attend the discussion on economic affairs without the consent of former president Mahinda Rajapaksa and the other party leaders," he told a news briefing. (Lahiru Pothmulla)
Video by Amantha