---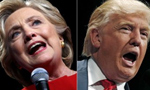 Donald Trump is leading Hillary Clinton by 40 Electoral College votes, according to media reports, with the Republicans retaining control of the US House of Representatives.
There are 538 Electoral College votes allotted to the 50 states and the District of Columbia. It takes 270 votes to win.
Twenty-seven states have been called so far. Mrs Clinton has won 11 states to Mr Trump's 16.
Both candidates scored early victories in states where they were expected to win.
Those victories were long predicted and not especially significant in the national race, which is likely to turn on a half-dozen toss-up states that will be crucial in the state-by-state fight for 270 Electoral College votes needed to win.