---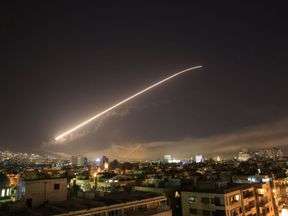 The US, UK and France have launched air strikes against alleged Syrian chemical weapons facilities in response to chemical weapons attack in a Damascus suburb a week ago, the Guardian reported a short while ago.
The Pentagon said the air strikes, which began at 4am Syrian time, involved planes and ship-launched missiles, more than a hundred weapons in all.
Officials named three targets: a scientific research centre in Damascus, a chemical weapons storage facility west of Homs and another storage site and command post nearby.
"Right now, we have no additional attacks planned. This is a one-time shot," US defence secretary James Mattis said.
However, in a televised address from the White House earlier to announce the strikes, Donald Trump said the US and its allies would strike again if there were more chemical weapons attacks by the regime of Bashar al-Assad.
"We are prepared to sustain this response until the Syrian regime stops its use of prohibited chemical agents," he said.
Referring to last Saturday's chemical weapons attack reported to have killed over 70 people, Trump said. "These are not actions of a man, they are crimes of a monster instead."
After Trump finished his seven-minute address, Theresa May and Emmanuel Macron made separate announcements of British and French participation, stressing that the strikes were limited to Syrian regime chemical facilities, and had no wider goals.
Explosions were reported in Damascus moments after Trump's address.
The Russian ambassador to Washington, Anatoly Antonov, has issued a statement threatening "consequences".
"A pre-designed scenario is being implemented. Again, we are being threatened. We warned that such actions will not be left without consequences. All responsibility for them rests with Washington, London and Paris," Antonov's statement said.
The Pentagon said in the immediate aftermath of the strikes that while there had been some Syrian air defence fire, it was not clear whether Russian air defences in Syria had gone into action.