---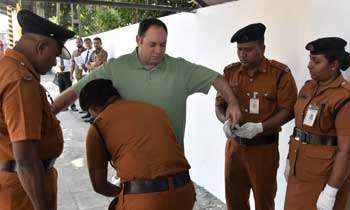 The US Coast Guard (USCG) conducted a port security capacity building programme at the Colombo Port with more than 25 Sri Lankan port officials from February 11 to 13, the US Embassy said today.
In a statement, it said the event strengthened the port's security capabilities through drills that improved agency coordination and the implementation of the port's security plan.
"Sri Lanka's improved maritime security will not only provide greater protection against terrorism and other threats but also will enhance trade with other countries, contributing to Sri Lanka's prosperity," it said.
Lieutenant Matt Arnold, the USCG's liaison to Sri Lanka for Port Security initiatives who headed the program, said Sri Lanka has demonstrated a strong commitment to port security.
"This capacity building program helped create the security environment that's essential to increased trade and realizing Sri Lanka's goal of becoming a regional hub for commerce," he said.
The USCG's International Port Security Program was established in 2003 to expand understanding of maritime security measures.