---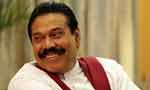 The UPFA has decided against inviting former President Mahinda Rajapaksa to the SLFP May Day rally at Galle, personally, as he continues to be-little the party's official May Day rally, UPFA General Secretary, Fisheries and Aquatic Resources Development Minister Mahinda Amaraweera said.
Minister Amaraweera said the SLFP did not invite party members formally to the May Day rally but assigned them on various duties related to the rally in addition to asking them to bring as many supporters as possible to the main rally. But constituent partners of the UPFA have been invited.
"However, as Mr. Rajapaksa is a former President, former party leader and a patron of the SLFP we sent him an e-mail and a fax inviting him to the May Day rally. I wanted to meet him and hand over the invitation personally out of respect. But I have now decided not to do so as it seems that there is no end to disparaging remarks and insinuations on the SLFP led by President Maithripala Sirisena," he said.
He alleged that Mr. Rajapaksa stooped to the level of engaging former Pradeshiya Sabha chairmen to insult the party and widen the division within.
Minister Amaraweera vowed that he would bring 124 buses fully loaded with SLFP supporters from Hambantota for the SLFP rally in Galle and added he could not find supporters to fill 4 buses from Hambantota for the 2015 SLFP May Day rally held at Hyde Park, Colombo.
Commenting on the EU's declared consent to lift the ban on fish exports on Sri Lanka, Minister Amaraweera said Sri Lanka could resume export of fish and related products to EU in two months, after going through EU Parliament and the approval procedure.
Sri Lanka has incurred a loss of foreign exchange to the value of Rs.1,600 million annually as a result of the EU fish exports ban. (Sandun A Jayasekera)