---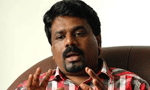 Uva Provincial Council members from the United National Party (UNP) and the Sri Lanka Freedom Party (SLFP) are planning to visit Italy with the commissions received by the chief minister from road construction contractors, Chief Opposition Whip Anura Kumara Dissanayake revealed in Parliament today.
He alleged that the Uva PC was riddled with corruptionandthat the chief minister was trying to pay the contractors as soon as possible so that he could collect the commissions for the trip to Thailand.
"He is trying to pay the contractors even before obtaining the approval of the central government," Mr. Dissanayake said and added that the CM was attempting to influence the secretary and the assistant but they have refused to get involved in this matter.
He questioned local government and provincial councils Minister Faizer Mustapha on what steps he intended to take against the CM. "We know that the chief minister is the close confidant of the minister,but please answer my question, " he said. (Yohan Perera)