---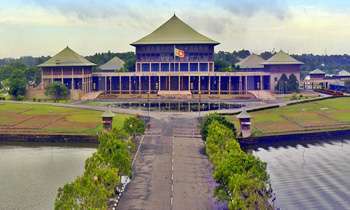 The United National Party (UNP) is expected to move a resolution in parliament on February 7 calling for the formation of a national government and thus increase the cabinet of ministers to 48 and the number of deputy, state and non-cabinet ministers to 45.
The UNP handed over the resolution to Parliament Secretary General yesterday to be debated and voted on the same.
The 19th Amendment to the Constitution restricts the number of Cabinet ministers 30 members while the number of deputy, state and non-Cabinet ministers should not exceed 40.
The UNP's move to form a national government is to overcome pressure by its MPs who are agitating for ministerial portfolios.
The number of cabinet ministers can only be increased in the case of a national government.
According to Article 46(5) of the Constitution, a national government means a government formed by a recognized political party or independent group with the highest number of seats in Parliament together with other recognised political parties or independent groups.
According to political sources, the UNP is hoping to form the national government together with the Sri Lanka Muslim Congress (SLMC).
Only MP Ali Zahir Moulana was elected on the SLMC ticket while its other MPs including leader Rauff Hakeem were elected on the UNP ticket.
Meanwhile, some United People's Freedom Alliance (UPFA) MPs are also expected to join the UNP in forming this government. They are hoping to obtain President Maithripala Sirisena's permission to accept portfolios in a UNP-led government. (Kelum Bandara)