---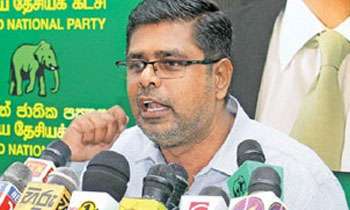 UNP MP Mujibur Rahaman today said he will file legal action against Joint Opposition MPs Shehan Semasinghe and Wimal Weerawansa for making false allegation that contaminated milk packets have been distributed by him during the opposition protest on September 5, 2018.
Mr. Rahaman told a media briefing that he will file legal action against the two Joint Opposition MPs as per section 28 of the Penal Code. "I can file action against the two MPs for the statements they have made against me outside Parliament and will do so. It is possible to file action against someone as per section 28 of the Penal code for making a false allegation. One is subjected to two years imprisonment or to a fine if found guilty of making a false allegation against someone and I will be making use of this provision and would file legal action," the MP said.
Meanwhile, UNP Spokesman Minister Harin Fernando and Deputy Minister Nalin Bandara who also participated in the briefing said they have asked the IGP to probe the allegation made by the Joint Opposition. "We have also lodged a complaint with the Mirihana Police and have asked for probe on the allegations," Deputy Minister Bandara said.
"Joint opposition is coming up with a false allegation to cover up its failure on September 5. They said they will topple the government but ended up becoming a bunch of drunkards. After that they will blame us for giving contaminated liquor," Minister Fernando said.
Responding to a question raised by the journalists as to whether the government could prove that joint opposition leaders stayed at five star hotels in Colombo on the night of its protest, Minister Fernando said there are video clips of joint opposition leaders going to the hotels in their vehicles.
Deputy Minister Bandara said the government would have got the police to fire tear gas at the protesters if it wanted to disrupt the protest and would not resort to do things under cover. (Yohan Perera)
Video by D Ruwandi