---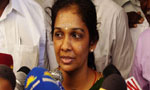 The UNP cannot agree with the statement made by its MP Wijayakala Maheswarwan on the late LTTE leader Prabahakaran, one of its MPs said today.
Ms Maheshwaran recently said LTTE leader Prabahakaran could have been the Prime Minister of this country had he been alive today.
UNP MP Hector Appuharmy told a media briefing that his party could not agree with the statement made by Ms Maheshwaran. "We condemn this statement," he said while recalling that the LTTE was accused of causing destruction to the country.
"Ms Maheswaran may have come out with her own opinion but it is not the opinion of the rest of us in the party," he added.(Yohan Perera)