---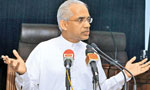 The Government is prepared to amend the existing laws to enable the recovery of losses incurred in the controversial sale of Central Bank bonds, UNP Deputy Minister Eran Wickramaratne said today.
He told a news conference held at Sirikotha that new legislation would be introduced in case the existing laws do not have provisions to recover the losses incurred.
The deputy minister said JVP MP Sunil Handunnetti who heads the parliamentary Committee on Public enterprises (COPE) could refer the bond scam to the CID, FCID or the Bribery commission.
"We will support him on this matter," he said adding that further investigations might reveal how Perpetual Treasuries had carried out its activities.
Responding to a statement by former COPE chairman DEW Gunasekara that Prime Minister Ranil Wickremesinghe is also responsible for the scam, the deputy minister said the Prime Minister was in no way responsible for the acts of Central Bank's former Governor Arjun Mahendran though he had appointed him to the post.
"If a person appointed to any post by a superior is engaged in stealing coconuts can you blame the superior for that," he asked and added that the Prime Minister had only requested the Central Bank to find an effective way to generate funds for the government and had not advised the ex-governor on the sale of CB bonds.
The deputy minister said the footnotes in the COPE report on the bond scam only referred to the fundamentals of the bond issue and had nothing to do with the transaction in question. (Yohan Perera)
Video by Danushka