---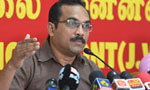 The Janatha Vimukthi Peramuna (JVP) today accused the UNP members in the parliamentary Committee on Public Enterprises (COPE) of attempting to protect "Ali Baba" and recommend action only against a few of the thieves involved in the bond scam.
"Ali Baba and ten thieves are involved in this scam. But the UNP report does not highlight any misdemeanors of the main thief. This is what happened to the Rajapaksa regime as well. So we are not surprised about this," JVP MP and COPE member Bimal Ratnayake said.
"In our report, we have recommended action against all those involved in the bond scam. We have no issue with anyone. Legal action should be taken against Central Bank officials and the Perpetual Treasuries."
He said UNP members in the COPE committee were attempting to draft a new report to protect corrupt officials while the majority of the COPE members had agreed to accept the report compiled by COPE headed by Sunil Handunnetti.
"Prime Minister Ranil Wickremesinghe handed over the investigations into the Central Bank bond scam to the COPE but now the UNP members in the COPE are trying to prevent those who are involved in it being revealed. The motive of the UNP is to delay the COPE report," Mr. Ratnayake said and added that the report would be presented in Parliament within 72 hours.
He said the COPE report was compiled based on three reports -- the report of the committee appointed by Prime Minister Wickremesinghe, the report submitted by former chairman DEW Gunasekera and the Auditor General's report.
Mr. Ratnayake said the UNP members could also present their report in Parliament but the people would know the truth when the original COPE report was presented in Parliament.
"People will know the recommendations and conclusions of the COPE committee when the report is presented in Parliament. It is up to the President, Prime Minister and the Speaker to take action against the culprits based on the report," he said.
Mr. Ratnayake told a news conference that corrupt members of current government and those who were in the Rajapaksa government are perturbed by the COPE decision.
He said the UNP members were forcing the Auditor General to change his report on the bond scam and added that the COPE so far had acted based on the report of the Auditor General and his report had been an issue only on this incident.
Mr. Ratnayake said the JVP would not allow the UNP to use the COPE committee to protect the corrupt.(Ajith Siriwardana)