---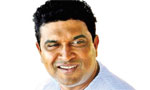 The government's main constituent party the UNP today charged that some SLFPers who are dealing with the Joint opposition are working to sabotage the development programmes of the government.
UNP MP Nalin Bandara Jayamaha told a media briefing that this situation was clearly indicated by the statements made by some members of the government and the defeating of the Development (special provisions) Bill in several provincial councils.
" We are sure that the no one who is backing President Maithripala Sirisena are involved in these dramas but those in the joint opposition and a handful of SLFPers who have secret dealings with them are involved in it" Mr Jayamaha said.
"President Sirisena should be aware of these forces" the MP said while revealing that UNP MPs intend having a dialogue with the President to clear things up.
Further he said the development special provisions Bill could be implemented by the Central government after it is approved by Parliament. At the same time the MP said President Sirisena or others could bring in amendments to the Bill. "It is possible to discuss the amendments and implement them" he said.
MP Kavinda Jayawardena alleged that some members of the government including Dilan Perera were engaged in making unnecessary statements. "These Ministers should realize that they are putting President Sirisena in a difficult situation. The UNP will never isolate President Sirisena and will not allow the conspiracies of the joint opposition and few others to succeed" he said. He said this government would carry on till 2020 under any circumstances.
He said the development special provisions bill was referred to the provincial councils because they were moving in a democratic manner
MP Hector Appuhamy said the government would bring in a 'Top hundred' programme under which shady 100 deals of the previous government will be revealed. He said said this was aimed at countering the ' Top 10' programme of the joint opposition.(Yohan Perera)