---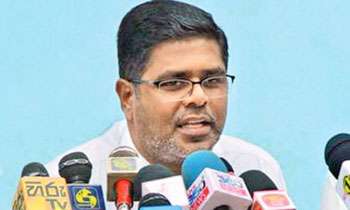 The United National Party (UNP) yesterday rejected the remarks made by President Maithripala Sirisena on Independence Day and in Parliament on Wednesday.
Addressing a news briefing, UNP MP Mujibur Rahman said the speech made by the President on Independence Day was a political speech and added it was not suitable for such a remarkable day.
"It became obvious that the President delivered the speech in order to gain political advantage rather than delivering a speech which would help the country to move forward,"
He said the President criticised the UNP saying that he would not agree with forming a national government.
"It means that the President does not agree with the policies of his government. We feel sorry for the President," Mujibur Rahman said.
The President's remarks clearly depict that he is canvassing for the Sri Lanka Freedom Party (SLFP) and working against the UNP.
Therefore, the MP said there was a necessity to strengthen the UNP in number which was why they pondered of going for a national government.
Meanwhile, UNP MP Ashu Marasinghe said the remarks made by the President in parliament could not be condoned and added they totally rejected them.
"His speech in parliament was unbecoming of a President and rather reflected the role of the SLFP chairman. He criticized the Speaker, Constitutional Council and the Human Rights Commission in public," he said. (Sheain Fernandopulle)
Video by RM