---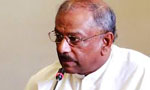 The Joint Opposition said UNP MPs had started the brawl inside the Parliament chamber, when some Joint Opposition members were conducting a peaceful protest inside the chamber today.
Speaking at a media briefing in Colombo, Joint Opposition leader MP Dinesh Gunawardena said the Joint Opposition had sought permission from the Speaker to express their views on the removal of army personnel from the security detail of Mr. Mahinda Rajapaksa.
"The Speaker granted us permission and we questioned the Prime Minister about it. The Prime Minister gave us an explanation. When the explanation was over, Minister Field Marshal Sarath Fonseka sought permission to express his views on the same subject," he said.
He said, with the Speaker's permission, Minister Fonseka had started to read out a prepared speech regarding the withdrawal of the army security of Mr. Rajapaksa; "Then we went on to the Well of the House to show our disapproval of it. His behaviour was also contrary Parliamentary procedure," he said.
He said MP's from both sides were injured in the clash, and that the Joint Opposition he had never expected such an eventuality.
Joint Opposition MP Udaya Gammanpila said UNP MP Palitha Thewarapperuma was the one who had started the brawl by attacking MP Prasanna Ranaweera.
Joint Opposition MP Bandula Gunawardena said the government should take the responsibility if any harm befell Mr. Mahinda Rajapaksa. (Kalathma Jayawardhane)