---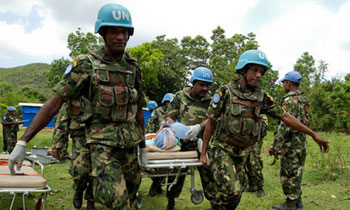 The Sri Lanka Army has sought clearance from the SL Human Rights Commission to dispatch a contingent of troops to Lebanon, following new procedures set up by the UN relating to local troops sent for Peace Keeping assignments.
As a Troop Contributing Country (TCC) to the United Nations, Sri Lanka has been in the practice of sending troops for UN Peace Keeping assignments since 2004, when the country qualified to do so, the army said.

The Army said that a contingent of 150 soldiers of the Army, earmarked for deployment were set to leave for Lebanon in batches as replacements, from February this year and the first batch of 49 troops had left for Lebanon on February 18 and 19.
However, the UN Department of Peace Keeping Operations (DPKO) has insisted that Sri Lanka should seek feasible clearance for such deployments directly from the Sri Lankan Human Rights Commission (SLHRC) by vetting respective overseas bound UN candidates before their departure.
As a result of this change of procedures, the Army was compelled to refer the remaining batch of 101 Army personnel for necessary screening as advised by the UNDPKO.
At present, Sri Lankan troops, a majority being from the Sri Lanka Army have been deployed to Lebanon (UNIFIL), South Sudan (UNMISS), Mali (MINUSMA), Abyei (UNISFA), New York (UNHQ), Central African Republic (MINUSCA) and Western Sahara (MINURSO), either as military observers, staff officers, staff officer assistants or general contingent troops.(Darshana Sanjeewa)