---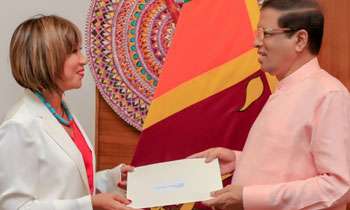 Newly-appointed United Nations Permanent Representative for Sri Lanka, Hanna Singer assured President Maithripala Sirisena that while continuing the ongoing programmes, she would also explore the possibility of widening assistance to Sri Lanka.
She expressed these when she called on the President at his official residence in Colombo on Thursday.
The President thanked Ms.Singer for the support extended over a long period of time for the development programmes in Sri Lanka.
She has worked for the UNICEF for 27 years and has more than 15 years of senior management experience in the humanitarian assistance field in different regions including South Asia.
Ms. Singer has also served as the UNICEF Country Representative in Syria, Nepal, Kazakhstan, and Azerbaijan.