---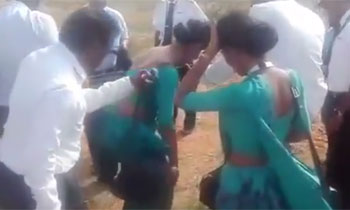 A video footage showing crew members of a SriLankan Airlines flight from Madurai to Colombo crawling through the barbed wire fence of the Madurai Airport in India has gone viral on the Internet.
The incident had taken place amidst 'Jallikattu' protests, which were held in Madurai preventing access to the Airport.
The footage shows crew members, including air hostesses, crawling through the barbed wire fence to enter the airport to reach their aircraft.
Commenting on the incident, a spokesman for SriLankan Airline said crew members had to seek permission from the airport authorities to reach their flight in an un-orthodox manner because of protesters blocking the roads.
"The Madurai Airport is a small airport and it was surrounded by the protesters three days ago. Our crew members had to enter the airport somehow to get on board and fly the passengers on schedule. Otherwise, not only the passengers will face difficulties but even the flight schedule would have been affected. We appreciate the extra measures taken by the crew to ensure an efficient service to the passengers," the spokesman said.