---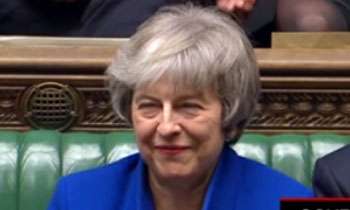 Theresa May has called on Britain's political parties to "put self-interest aside" and work together on a compromise Brexit deal, hours after her government survived a no-confidence vote Wednesday night.
Lawmakers voted 325 to 306 in favor of the government remaining in power, one day after they rejected the Prime Minister's Brexit deal by 230 votes, in the biggest defeat for any UK government in the modern parliamentary era.
In a statement to the nation after the confidence vote, May admitted that "the events of the past 24 hours will have been unsettling" to the public, but urged lawmakers to come together to "find a way forward."
"So now MPs have made clear what they don't want, we must all work constructively together to set out what Parliament does want," she said. "It will not be an easy task, but MPs know they have a duty to act in the national interest, reach a consensus and get this done."
With just 72 days to go until Britain leaves the European Union, May now faces an uphill battle to bring together political parties with competing objectives -- not least several factions within her own Conservative party -- to strike a deal that can win a majority in Parliament.
May said she had already held "constructive meetings" with leaders from several smaller opposition parties to discuss next steps, and added that more talks would take place on Thursday.
Jeremy Corbyn, the leader of the main opposition Labour party, earlier refused to hold talks with May until the government agrees to rule out a no-deal Brexit.
"Before there can be any positive discussions about the way forward, the government must remove clearly once and for all the prospect of the catastrophe of a no-deal Brexit from the EU and all the chaos that would come as a result of that," the Labour leader said. (CNN)