---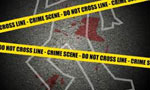 Two women and a boy were killed when they were run over by a lorry at Saliyawewa, on the Anuradhapura-Puttalam road, this morning, Police said.
They said the Police were on a search for the lorry driver who had fled the scene of the tragedy.
The deceased were residents of Saliyawewa and have been identified as 84-year-old R.A. Yasohami, 62-year-old B.A. Hemalatha and 12-year-old R.A. Imalka Heshan. They died on admission to the Puttalam and Nochchiyagama hospitals.