---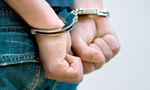 Two foreigners and a Sri Lankan were arrested with five caterpillar cocoons and several herbal plants indigenous to Sri Lanka in Kaduwela yesterday.
The foreigners from the Czech Republic were travelling from Matara were arrested by Police officers on the Outer Circular Highway together with Wildlife officers last night.
Officers also found several chemical compounds in the vehicle. The suspects are to be produced to the Kaduwela Magistrates Court today.