---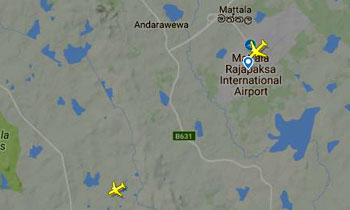 Two flights from Chennai and Seychelles, due to land at the Bandaranaike International Airport (BIA) were diverted to the Mattala International Airport because of bad weather, the BIA duty manager said.
Flight UL 122 from Chennai was scheduled to land at the BIA at 11.20 am while UL 708 from Seychelles was scheduled to land at 11.25 am.
The duty manager said the two flights would return to the BIA as soon as the weather improved.