---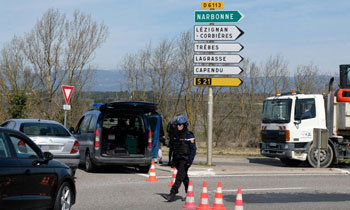 At least two people were killed after a gunman claiming allegiance to the Islamic State group opened fire and took hostages at a supermarket in southwest France a short while ago, Agence France-Presse (AFP) reported.
A security source said the two were killed in the attack at a Super U store in the town of Trebes.
Armed police were also responding to the earlier shooting of a policeman in the town of Carcassonne, 15 minutes drive away, which took place at around 11 am (1000 GMT).
It was unclear if the two incidents were linked.
The gunman claimed allegiance to the Islamic State group, the local prosecutor's office said, and the incident was being treated as a terror attack.
Local authorities tweeted that the area around the supermarket was off-limits to the public, while Prime Minister Edouard Philippe said it was a "serious" incident.
If the link to Islamic State is confirmed, the hostage-taking would be the first deadly attack in France since October, when two young women were stabbed to death outside Marseille's main train station.
Interior Minister Gerard Collomb was heading to the scene, he wrote on Twitter
The area of southwest France where Friday's shootings took place has been scarred by Islamic extremism before.