---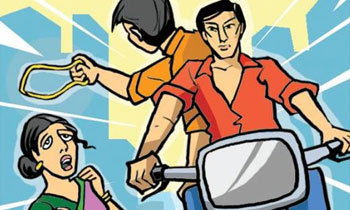 Two chain snatchers were injured while escaping the scene of crime this morning, when police shot them near the Baththuluoya Bridge in Chilaw.
Police said the suspects had tried to snatch a gold chain from a woman who was taking her child to pre-school in Arachchikattuwa. The suspects had fled when the woman's husband and neighbours arrived at the scene.
Police said several residents had chased the suspects and then informed two policemen who were passing by in a motorbike of the incident.
The police officers had then chased the suspects and signaled them to pull over. When the suspects had refused to do as directed one of the officers had opened fire at the suspects, aiming at their legs, police said.
Despite being injured, the suspects managed to cover some distance before meeting with an accident near Kiriyankalliya garment. They were then arrested and admitted to the Chilaw Hospital.
The rider was injured in the leg while the pillion rider also sustained some minor injuries. Police said that both suspects were undergoing treatment at the hospital with police protection. (Darshana Sanjeewa)