---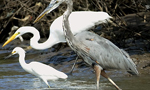 Two persons were arrested while transporting 29 herons which they killed illegally for food at Eeralakulam, Karadiyanaru yesterday.
The suspects aged 19 and 20 years-old, residents of Eeralakulam were released on bail after being produced to the Eravur Magistrate Court yesterday.
Police said they were released on a surety bail of Rs. 50,000 each and the case is to be taken up on March 23.