---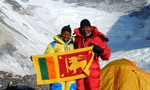 The two Sri Lankans - Jayanthi Kuru Uthumpala and Yohan Peiris - who are trekking the Mount Everest, said that they have reached the final stage of their mission.
The duo will create history as the first two Sri Lankans to make it to the top of the world's highest Mountain.
Yohan Peiris said the climate on the top of the mountain will be clear for ten days and therefore, they would try to make it to the top targetting these days.
"We are in the final stage of the trekking. We are waiting till the climate is favourable on the top. The task is more difficult than we thought," he said.
The two expressed optimism that they would be able to reach the top as a team.(BBC)