---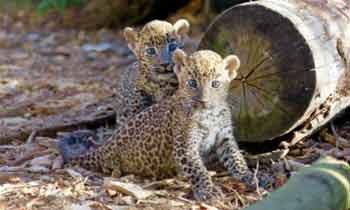 Banham Zoo at Norfolk in England is celebrating the birth of two rare and endangered Sri Lankan leopard cubs which were born in September, the Eastern Daily Press reported on Wednesday.
With fewer than 1,000 Sri Lankan Leopards in the wild, the birth of the cubs has been warmly welcomed by the zookeepers at Banham.
These endangered animals have bred successfully at the zoo for many years but this is the first time for Sariska and her mate Mias, wrote Harriet Orrell.
Michael Woolham, the zoo's animal manager, said it's very exciting for the zoo.
"Sariska has so far been a super mother - very attentive and protective. I'm sure the cubs are going to grow up to be very healthy. Because Banham has a lot of experience with big cats and in particular Sri Lankan leopards, Mias was sent to us with the view that we might be able to persuade him to breed."
The cubs, now almost four months old, have had their veterinary checks and vaccinations and have been identified as two females.
Meanwhile, the Eastern Daily Press has launched a competition to name the pair of baby leopards.
Banham Zoo said it would like the cubs to be given names associated with Sri Lanka and is inviting readers to send their suggestions.
To enter, email two name suggestions to marketing@zsea.org
The competition closes on Friday, January 5.